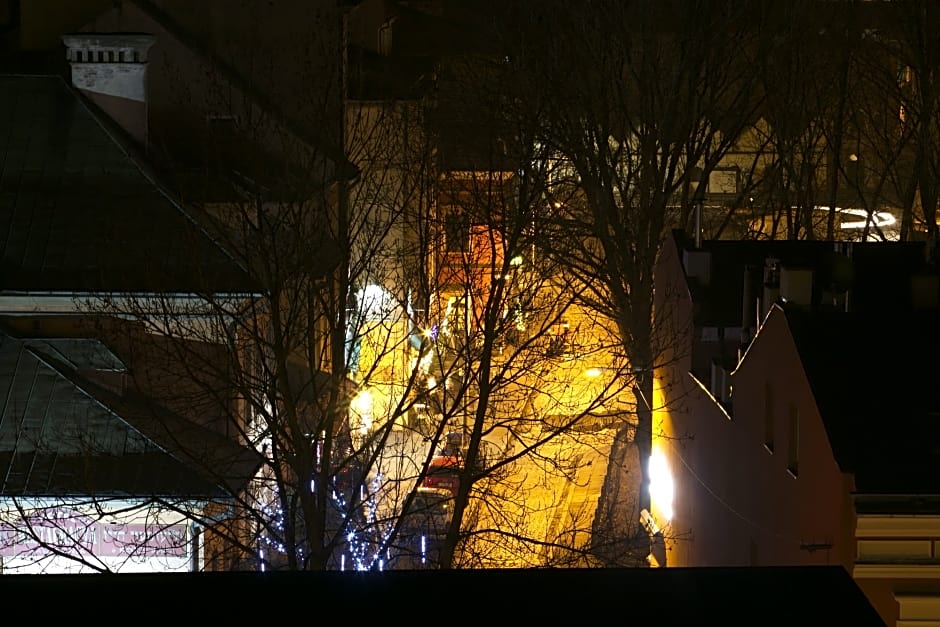 Along with ideal positioning amidst Krakow's medieval Old Town square, as well as proximity to the remarkable Kazimierz district and cultural centres, Columbus Hotel is within walking distance of cafés, bistros, galleries, unique markets, and bars. Additionally, renowned sites like Jewish Cemetery, Main Market Square, Wawel Castle, Old Synagogue, Wawel Cathedral, and Town Hall Tower are located nearby.

Accommodation
The modern guestrooms of Columbus Hotel showcase ample space, spectacular city views, and an impressive selection of invaluable provisions such as LCD TV, premium satellite channels, free Wi-Fi, safe, contemporary desk, and air conditioning with climate control. What's more, bonus items in the form of signature bedding, blackout curtains, plus complimentary toiletries and bottled water are appreciated while well-stocked minibar and refrigerator contribute to the overall appeal. Articles consisting of hypo-allergenic bedding, iron/ironing board, and cribs/infant beds are obtainable upon request.

Hotel Facilities
Together with timely room service, Columbus Hotel offers delicious complimentary buffet breakfast each morning and a fantastic on-site restaurant. Moreover, patrons have access to numerous outstanding features including inviting bar/lounge, casual coffee shop, not to mention free Wi-Fi in public areas. Those travelling with a child/children appreciate supervised childcare/activities and well-equipped playground while everyone values efficient dry cleaning/laundry service, computer station, express check-in/out, concierge support, and around-the-clock front desk assistance. Bicycle rentals are also available on the premises.

Transportation
The Columbus Hotel can arrange transportation from and to Krakow's airport, which is merely 11 kilometres away. Furthermore, those travelling by vehicle find parking within the surrounding area fitting.
予約する方法
Columbus Hotelで予約するのが簡単で安全でございます。ご希望の日付を選択します。そして、フォームを送信するために「料金を確認し」というボタンをクリックします。 客室タイプと料金はお宅の画面に戻った後で、画面の中央にある部屋の情報を読むと画面の右側にある「予約する」というボタンをクリックすることによって希望の料金を選択することができます。希望の客室タイプを選択した後で、「ご予約を完了」というフォームに転送されます。その時に「滞在の詳細」を確認して、「ゲストの詳細」という部分の空欄でご自分の詳細のことを書きます。ご自分の名前とメールアドレスが正しく入力されていることを確認してください。 すべての重要な情報を記入した後で、「ご予約を完了」というボタンをクリックしてください。ご自分のセキュリティを確保するために、私たちがクレジットカード番号を暗号化し、非使用可能な形式にエンコードする安全なコマースサーバーを使います。
地域情報
空港

Krakow, Poland (KRK-John Paul II - Balice)

- 6.52 mi

Katowice, Poland (KTW-Pyrzowice)

- 48.14 mi

ミュージアム

Galicia Jewish Museum

- 0.24 mi

Ethnographic Museum in Krakow

- 0.42 mi

Artemis Gallery

- 0.50 mi

Jan Fejkiel Gallery

- 0.55 mi

Archeological Museum

- 0.59 mi

Historical Museum of Krakow

- 0.63 mi

Starmach Art Gallery

- 0.70 mi

Krypta u Pijarow Gallery

- 0.72 mi